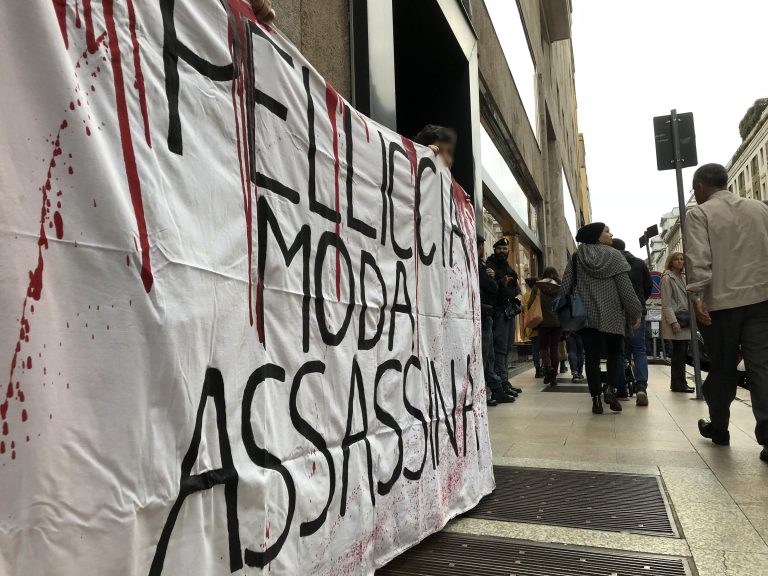 For Escada, killing animals is back in fashion
Escada is a German fashion brand and for or several years, starting in 2007, it has been the target of international pressure that came to an end in 2010 after the company's decision to permanently stop the sale of fur inserts in their clothing collections. Those declarations were proven to be untrue, because as early as last year on the shelves of the stores furs of animals such as raccoons, chinchillas, mink, foxes, rabbits, karakul and especially lambs, considered a byproduct of the meat industry reappeared. A deception that has not passed, however, unnoticed from the international coordination against the fur industry – Offensive gegen die Pelzindustrie (OGPI) – that has launched two days of protest against  Escada on 3 and 4 November 2018.
For this reasons we, Quaglia Milano (www.quaglia.noblogs.org/),  decided to join the international call and Saturday 3 November starting from 15 we gathered in front of the windows of the Escada store in Milan in corso Matteotti 22 for a loud and noisy protest: about thirty activists and activists from different areas of northern Italy protested together behind the banner "Pelliccia moda assassina – Fur is killer fashion", signs in various languages with writings such as "Fashion Kills", "Free Animals", "Vanidad mata", "Escada your fashion drips blood" were displayed.
Despite the police tried to intimidate us immediately asking for the papers of anyone arriving at the demo, the rally continued uninterrupted until almost 18: while some of us distributed the leaflets explaining the reasons for the protest, the slogans "50 million of dead animals, for Escada they are just money "or" Minks, foxes, chinchillas, skinned by Escada for vanity ", have unmasked in front of the eyes of the distracted Saturday afternoon public, the violence on the bodies of animals that hides behind the glossy windows of shops like the one of the German fashion brand. Those bodies on which the fur industry profits for its dirty business and that are killed with bloody methods such as genital electrocution or suffocation with gas.
We reiterated once again during our speeches that we do not appeal to the state or institutions for animal liberatio, because political power and economy are the basis of this system of exploitation and that we do not intend to delegate our struggle to anyone. For the same reason our protest was not to ask for laws that propose bigger cages or less bloody methods of killing: what we want is to see those cages re empty! Only with radical practices like taking to the streets and direct action a real change is possible: for animal liberation, for total liberation!
Escada is present in Italy with shops in Rome, Milan, Forte dei Marmi, Rimini and in various shopping centers and Rinascente stores. For info on new mobilisations of the Offensive campaign against the Fur
Industry: www.offensive-gegen-die-pelzindustrie.net